'In Our Own Good Time'
Oil painting on canvas by Grant McSherry. 1200 mm x 800 mm.
Since first painting Aoraki / Mount Cook in 2001, my interest in working with the mountain has only grown and I have revisited the region several times in search of something new to say about a favourite subject
Left: The original, 'In Our Own Good Time' is a large size oil painting, finished in a hand crafted, gold leaf frame.
Driving down Highway 80 in the autumn of 2003, with Aoraki / Mt Cook looming in my windscreen, I caught a glimpse of a flashing orange light in the distance. It became clear that a mob of Merino sheep, perhaps one of the largest I have seen, was being mustered along the road toward me and away from Aoraki / Mt Cook. I stopped and asked the young woman in her 4x4 with the flashing light how far they were going, trying to figure out how I could best get some photos to work with. "All the way to Glentanner" she replied. "Fantastic!" I said. "This has made my day!" As motorists generally consider sheep on the road (particularly this many) to be a complete hassle, she must have thought I was more than just a bit strange…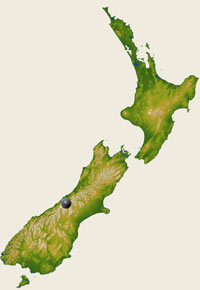 I drove about two kilometres back down Highway 80, in the direction I had come, away from Aoraki / Mt Cook, until the road aligned again with the great mountain. After finding just the right spot, I settled in patiently with my camera at the ready. I waited…and waited. By the time the Merino flock finally rounded the bend, it seemed like every sand fly in the Mackenzie basin had found me. It became obvious as to why the delay had been so long. The Merinos were meandering generally in one direction, but at the same time in all directions, stopping in small groups to savour the dry yellow grasses. The sheep were travelling to Glentanner behind the 4 x 4 with the flashing light in their own good time. Progress took place in a pattern. When the flock caught up to the stationary vehicle, the woman would drive further up the road and wait for the sheep to follow. 'In our own good time' depicts the first few Merino sheep at the head of the flock making their way along Highway 80 towards Glentanner.
I painted Aoraki / Mount Cook as seen from just off the side of Highway 80, further away from Mt Cook National Park than where my previous oil painting 'Highway 80' is set.
This oil painting of Aoraki / Mt Cook earned its title in more ways than one. The Merino sheep were heading to Glentanner in their own good time, and it seems I produced this Aoraki / Mount Cook painting in a similar vein. I began the oil painting in June 2003 but I did not complete 'In our own good time' until February 2004, as I had accepted some project work with the Christchurch newspaper during that time which allowed me to take a more leisurely approach to painting for a while. I valued the opportunity I had to take my own good time with this amazing image and I trust that I have been able to create a meaningful 'sense of place' of the area around Aoraki / Mt Cook, the highest point of NZ's Southern Alps and New Zealand's tallest peak. As a note Aoraki / Mount Cook's elevation was revised down by 30m to 3724 metres in January 2014. A slip in December 1991 had taken 10m from the summit and a further 20m had melted from the ice cap.
We are pleased to offer 750 hand - numbered and signed art prints on paper of 'In our own good time' for purchase as well as just 195 Giclee fine art prints on canvas.
Local legend of Aoraki / Mount Cook
The Maori legend surrounding Aoraki / Mt Cook, in a much-abbreviated form, and as I understand it, describes how four of Raki's children (Raki being the sky father) came down to greet Raki's new wife in their celestial waka (canoe). The sons were Aoraki, Rakiora, Rakirua and Rarakiroa.
When it came time for the brothers to return to their celestial home, the incantation that should have lifted their waka into the heavens failed and their craft grounded on a reef.
The waka turned to stone and earth forming the South Island of New Zealand. It listed to the east as it settled and Aoraki and his brothers clambered up the high side, where they also turned to stone.
Aoraki (Cloud in the Sky) is now also known as Mt Cook. Rarakiroa is Mt Tasman, Rakiora is Mt Dampier and Rakirua is Mt Teichelmann.
Oil painting & art print details
Original painting 'In our own good time': oil on canvas
Artist's collection.
Original painting size: 1200mm x 800mm
Art prints: Limited edition (offset on paper) 750, hand numbered & signed. Large size: (image area) 727 mm x 488 mm
Print price (printed offset on paper unframed) NZ $99 + packaging and freight. Packaging & freight for our art prints is free anywhere within NZ (Free freight not applicable to wholesale orders). See below for exchange rates.
Giclee reproductions: Limited to a maximum of 195 renditions of this work.
Giclee fine art prints on canvas (unframed) NZ $499 (+ packaging & freight Outside NZ). More about Giclee fine art prints