'Under Aoraki'
Oil painting on canvas by Grant McSherry. 1200 mm x 710 mm.

Mt Cook / Aoraki is an intriguing painting subject for me. If not the jewel in the crown of the Mackenzie Country, perhaps the great mountain is in fact the crown of the region.
Left: The original, 'Under Aoraki' is a large size oil painting, finished in a hand crafted, gold leaf frame.
I have revisited Mt Cook National Park several times since painting 'Highway 80' in 2001, to look for the next oil painting that represents one of my favourite places. Despite my good fortune in experiencing great weather, which has made Mount Cook visible on each visit, not every trip has been successful in producing the right material for a painting. This oil painting and art print of the Mt Cook landscape originates from my visit very late in the summer of 2003. A friend had recently travelled south (from Christchurch) and recommended that I go for a look as the autumnal change was beginning in central Otago. On my way home, I spied Mt Cook and was once again caught in its gravitational pull… As I couldn't go past I stopped at the head of Lake Pukaki and photographed some good material late in the day. Remembering that the forecast for the following day was again for perfect weather, I organised some accommodation at Tekapo so I could return the next morning and make the most of the last of the summer of 2003.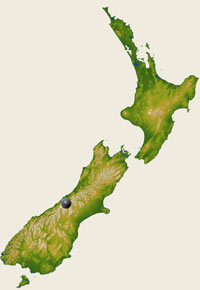 I decided to see what Braemar Road had to offer, but army signage indicated that road was not accessible to the public. Plan B was to travel to the end of Mt Cook Station Rd to see where this gravel road that parallels Highway 80 on the other side of Lake Pukaki leads. I hoped to find a walk at the end and some stunning views of Aoraki / Mount Cook. I took the photo that formed the basis of' the oil painting 'Under Aoraki' from Mt Cook Station Rd. It was about 9am, and I could feel an imminent change of season in the morning. The atmosphere was warm and perhaps it was the well used gravel road that added an element of nostalgia for me.
So where does Mt Cook Station Rd go? …to Mount Cook Station, funnily enough. The way the road ends is surreal. The tar seal on Hayman Rd quickly gives way to the gravel of Mt Cook Station Rd then meanders along past an A.A. sign that reads 'Aussie Rock'. Here a rock shaped like a mini Australia is perched on the skyline.
I took a photo of the rock for my Australian friends, then proceeded along Mt Cook Station Road with Mt Cook / Aoraki continuing to grow in my windscreen. I crossed several fords, passed more A.A. road signs, crossed a substantial bridge, passed yet more road signs and all of a sudden, I was sitting in my car in someone's paddock! There appeared to be nowhere to walk to and as it usually works, the closer to the mountain you get after a point, the less you see of it.
The trip was fruitful though. 'Under Aoraki' makes a great partner for 'Highway 80' and 'In Our Own Good Time' in more ways that one. This minor gravel road is on the Eastern shore of Lake Pukaki, where the major, sealed Highway 80 is on the western shore. All paintings share similar warm golden colourings but the perspective and feeling from Aoraki / Mount Cook is quite different. La Perouse, the pyramid-like peak straight ahead, features in all three landscape paintings. La Perouse is to the left of Aoraki / Mt Cook in this oil painting and the peak takes an important role in the composition of 'Under Aoraki'.
'Under Aoraki' is perhaps warmer than the winter landscapes that I often seek and paint, which stands this painting and art print aside from a lot of my other work. This painting and the art prints from it convey the feeling I intend, from that late summer morning, in the zone between two seasons.
This is a very limited edition art print with only 450 hand numbered and signed art prints on paper and up to 195 Giclee fine art prints on canvas produced.
Original painting 'Under Aoraki': oil on canvas
Original painting size: 1200mm x 710mm
The original oil painting 'Under Aoraki' is available for purchase NZD $9,500 + packaging & freight .
Art prints: Limited edition (offset on paper) 450, hand numbered & signed. Large size: (image area) 725mm x 427mm
Print price (printed offset on paper unframed) NZ $99 + packaging and freight. (Packaging & freight is free within NZ.) See below for exchange rates
Giclee reproductions: Limited to a maximum of 195 renditions of this work.
Giclee fine art prints on canvas (unframed) NZ $499 (+ packaging & freight outside NZ). Packaging & freight for all art prints is free within NZ. More about Giclee fine art prints