The Southern Newfoundland Society held its first water day for 2012 in Christchurch on January 15.
Here's our friend (and Henry's breeder) Ellen doing some water rescue training with youngsters 'Keeper' and 'Bomber'. They appear to be learning and practicing the international sign for HELP!...
Henry and Enzo enjoyed a swim to cool off but Michelle and I weren't as keen as Ellen and Mick to get in the water with the dogs...We're clearly not as tough and dedicated as those two!
Maybe next time.
Enzo continued to show his natural aptitude for swimming, being very relaxed in the water as he is everywhere else... well, maybe he's not too relaxed when he goes to see the vet.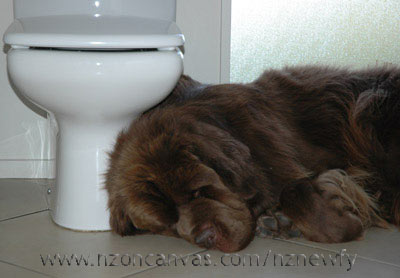 After much research Enzo appears to have decided that the smallest room in the house is the perfect place to take a well deserved nap.
Earlier on this day Enzo even went to the effort of closing the door. Too bad if we're in a hurry...
Brooklands in Christchurch NZ is an area that has been seriously affected by the ongoing earthquakes. The suburb will effectively disappear after more than 400 homes were zoned red, or scheduled for demolition. Nevertheless, the community rallied and the biannual Brooklands Gala day went ahead on January 21, 2012. Members of the Southern Newfoundland Society, and of course Newfs, went along to give kids free cart rides. Henry carted like a trooper, mostly taking two small children at a time.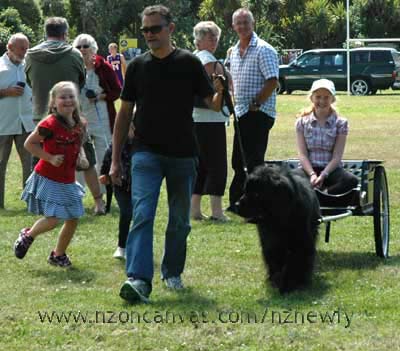 Henry made the kids smile and us proud. We even made 3 national news on TV that night...
Here he is conjuring up a few smiles.
The Southern Newfoundland Society's next water day was February 6 2012.
Now that Enzo was swimming comfortably it was time for him to progress his water rescue skills to incorporate the dinghy.
Michelle is in the dinghy with club president Don. Enzo has swum out to Michelle, who is coaxing him to take the rope to tow the boat back to shore...
Having swum to the dinghy, Enzo had plenty of ideas about getting in the boat for a ride back...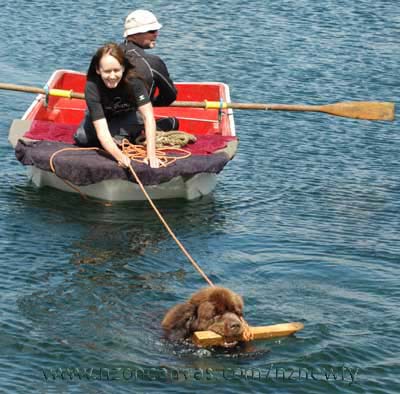 We had success after a piece of wood was tied to the rope. This made things more like swimming with a toy for Enzo who easily towed the dinghy and its occupants back to shore.
After a few more practice runs the next step was to get Enzo comfortable about being on the dinghy. Weight distribution on the small craft was fun...
Then it was time for Enzo to jump off...preferably without capsizing the dinghy!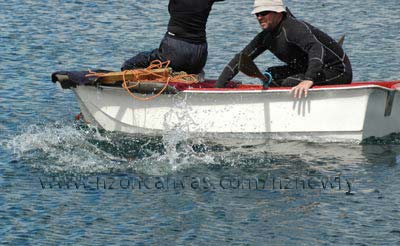 ......Wheredego???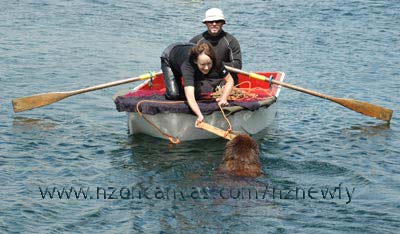 Enzo took the 'bit' in his mouth again, and towed the boat back to shore. Didn't he do well?
Please note that all images on this site are copyright.