Henry & Enzo went for a trip to Christchurch City centre on February 12, 2012. After the CBD was devastated by earthquakes, an innovative solution was found to get things going again. Shipping containers have been cleverly redesigned as retail spaces and located on the barren ground where shops used to be in Cashel Mall.
There are around 27 container shops in Cashel Mall. Henry & Enzo were popular attractions and they even stole some attention away from professional buskers…Loads of tourists took photos of the boys.
Here it appears that Henry is about to have his hair restyled by a budding hairdresser while Enzo has yet another pat and photo session...
The Newfy boys then came with us to see 'The Complete History of Christchurch – Abridged' by 'The Outwits' in Hagley Park. These guys are always funny and this show was absolutely hilarious. It's great that Christchurch city stages quality events that canine family members can attend.

A group of Newfoundland friends got together for the last water event for the 'summer' of 2011 / 12 on March 11.
As usual Enzo enjoyed his swimming, this time along with a Leonburger, a Curly coated retriever and a short haired Border collie as well as other Newfs of course.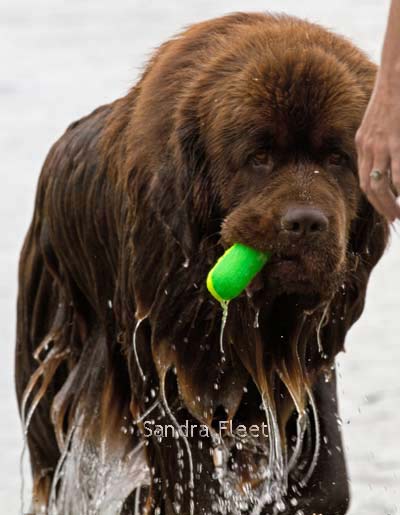 Enzo's confidence and competence in the water has developed well and we look forward to some more boat work with him next season.
Here our friend Sandra has superbly captured a moment when Newfoundland Enzo was returning his water toy to Michelle.
(Photo courtesy Sandra Fleet)
18 March 2012 was a great day to enjoy an autumn trip to Lake Coleridge in New Zealand's Southern Alps. A strong nor' westerly created a good chop on the lake but nobody minded at all. Here are Newfoundlands Henry & Enzo with Mt Hutt in the background.
It's easy to tell from this photo that the Newfy boys had a blast...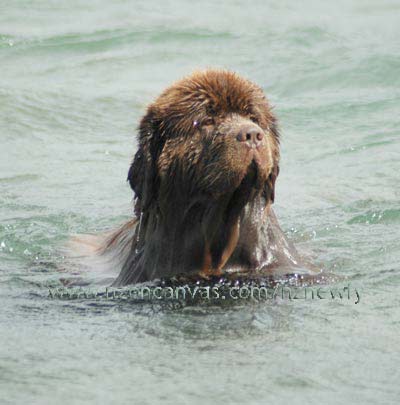 At one point we thought we saw a Seal, which would have been quite spectacular in a fresh water lake but no...It was Enzo checking out the environment.
Henry burnt up a lot of energy splashing about...
Enzo enjoyed a proper swim in Lake Coleridge as well as a splash around.
The boys had fun during the Easter of 2012 when friends came for a visit. Henry gave the children rides in his cart and Enzo seemed to bond particularly well with Emily, pictured here taking him for a walk.
Although not used to children at all, the boys were instinctively gentle, even when playing.
Please note that all images on this site are copyright.