Our Newfy club timed the season's first water rescue training day perfectly. November 25 was a beautiful warm Sunday in Christchurch, New Zealand.
Enzo got straight into swimming out and bringing Michelle and the dinghy to the safety of the shore.
O for Oarsome!
On his second run Enzo couldn't wait for Michelle to throw a rope, he just grabbed the dinghy by an oar and swam it to shore...
"Hi there, can I come aboard?"
Soon it became evident that Newfoundland Enzo was keen to be on the boat...
While Newfoundland Enzo was most comfortable clambering around on board, Michelle found it a little difficult to row...
...Especially when Enzo the Newfy wanted cuddles.
Time to leave the boat...or disembark (to use a more doggy term).
Splash down...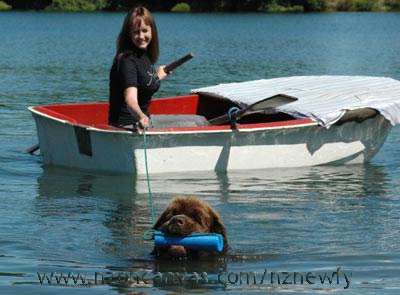 And back to shore we go...
Not content with just taking the dinghy to shore, Enzo the Newf thought it might be a good idea to take the dinghy up the bank to show Henry, who was waiting in the car.
This was all pretty hard work. Time for a break...
...So we have enough energy to go home for a rest.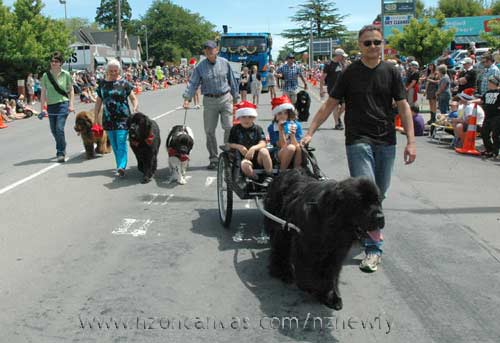 Rested and ready for the 2012 Christmas parade in Rangiora, Henry & Enzo got into the spirit of the day along with several of their Newfy friends. Once again the Newfoundlands were a hit with the crowd.
Henry was on carting duty while Enzo (not in shot) mingled with the crowd.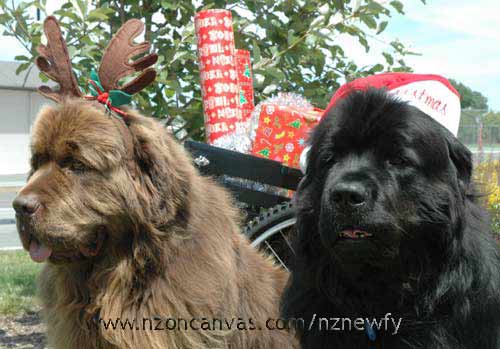 Merry Christmas!
Please note that all images on this site are copyright.