We decided to take a break in November 2011 and wanted to stay somewhere we could take our Newfoundland dogs Henry and Enzo. Michelle had the idea of going to Lake Wanaka so we booked in at the dog friendly 'Lake Outlet Holiday Park'.
Owners Glenn and Tracy welcomed our Newfies.
The view from inside the cottage (left) was superb and we enjoyed perfect weather throughout our stay
The area offered stunning walks around the lakefront which we could access from the holiday park. We could swim Henry and Enzo anywhere from the walking track. This part of Lake Wanaka, where the water outflows to create the Clutha River instantly became our favourite part of Wanaka.
They say "Never work with Children and animals"...maybe this is why.
While Enzo appeared to be in a fairly photogenic mood while on holiday, things appeared to differ on this occasion with Henry...
Although at this time of year the water was still too cold for us to swim, Newfoundlands Henry & Enzo were in their element. They had a real blast!
Enzo is a real natural in the water, just as Wellington was...
We had a great time and look forward to going back to our newly discovered retreat.
We're happy to share our secret with you, here's a link to the Lake Outlet Holiday Park, Lake Wanaka, NZ.
This is Holiday Park owner Glenn with Newfoundlands Enzo and Henry toward the end of our stay.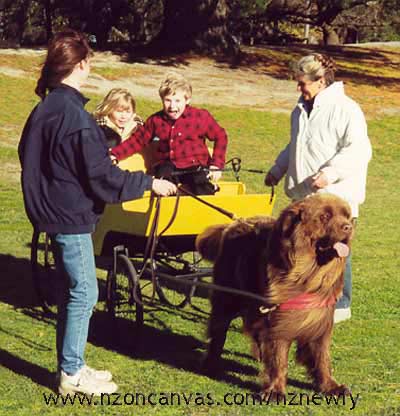 Wellington loved carting and would work tirelessly, taking kids for rides on fund raising days. The Southern Newfoundland Society dedicated one of their new carts in memory of our old boy...To the left is Wellington on his first day of carting, which would have been around the year 2000. Below is the club's new cart in November 2011.
Henry seems to be a natural at carting just as Wellington was. Here he is pulling the cart dedicated to his old mate, Wellington. He is trotting along at pace, flicking a glance at Enzo (out of the shot) as if to say "Ha, look at me!"
Here we are at the Rangiora Christmas Parade , 11 December 2011.
Henry towed his cart which was occupied by his wee passenger Daniel, while Enzo and Michelle socialised with kids and Newfy admirers of all ages along the sidelines.
The club's new carts and of course the Newfs were very popular...
Henry & Enzo enjoyed a very relaxed Christmas Day...
This provided us with the usual challenge of making our way around them to cook in the kitchen. Even on hot days they are usually huddled together.
Please note that all images on this site are copyright.