Newfoundland puppy Henry was born as part of a litter of eleven on February 13 2006. The following pages are essentially a pictorial blog about his life, which includes our other Newfoundland dogs and puppies Wellington and Enzo...enjoy.
At first I didn't recognise the voice on the phone... "Any colour you like, as long as its black"
"OK..." I said.
"Any colour you like, as long as its black" the voice persisted.
"Sounds like a Ford" I replied.
"Its Mick here, the pups are born."
That's how the name Henry came about.
To the right is Henry, or one of his littermates at just five days old, nestled into mum Piat's paw.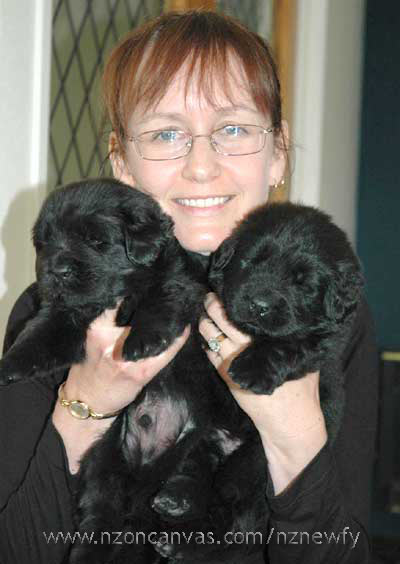 IIt's not often anyone gets to pick up two Newfoundlands at once, but here Michelle finds it no problem. It won't be long before these chaps weigh in probably at over 60kgs each...
Here are two pups from Henry's litter at four weeks old. We took this photo while visiting Mick & Ellen of Newfhaven Newfoundlands two weeks before making our choice from the four male pups.
When the pups were six weeks of age it was time for us to decide which of the four boys would be Henry...
We consider the Newfoundland dogs that Ellen & Mick breed to be among the best. We refined our choice to two personalities that were completely different. They happened to be the same two pups that Michelle was holding in the photo above. One pup appeared to be a little docile and submissive and the other one was...
HENRY!
At almost eight weeks of age, Henry and his Newfoundland littermates were pretty active and I found I needed to be a bit quicker with the camera to snap a shot...
Food consumption by the litter was also very quick. Here, Henry's sister Piper has just finished her dinner & waits expectantly in the bowl.
All that food goes somewhere and we were surprised on our visit at how much the Newfoundland pups had grown since we last saw them. Here is Michelle with Henry at almost eight weeks of age. At exactly eight weeks of age Henry weighed in at 9 kilos.
This was the time that the litter started leaving Newfhaven for their respective homes. Henry remained in the care of Mick & Ellen for a little longer while we waited for our house building project to be completed.
We caught up with Henry again a week later and he was starting to look all grown up in a miniature sort of way...
...but he definitely still had that cute Newfoundland puppy thing going...
Please note that all images on this site are copyright.