'Walking Group'
Oil painting on canvas by Grant McSherry. 1200 mm x 672 mm.
The Mackenzie Country possesses some of New Zealand's most harsh yet beautiful terrain, irresistible to me as a painter of NZ landscapes.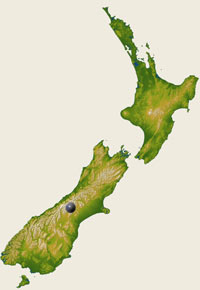 This Mackenzie Country oil painting features Godley Peaks Road.
'Walking group' captures some of the essence of a typical New Zealand back – country road where sheep wander free and it is the responsibility of the motorist to navigate around them. I think it is appropriate for me to include sheep in at least one of my Mackenzie Country paintings. Extensive grazing of sheep and cattle in the Mackenzie basin began in the 1850s. You will find a wonderful sculpture of a Collie dog by sculptress Innes Elliott in Tekapo, not far from the place this painting represents. The inscription reads... "Erected by the runholders of the Mackenzie Country and those who also appreciate the value of the Collie Dog, without the help of which the grazing of this mountain country would be impossible".
This monument is so lifelike, it had Wellington, our Newfoundland (pictured below with Michelle) apparently wondering how the Collie got on top of the rock…either that or he was checking it out to plan a statue of his own…
The day I discovered the 'Walking Group' Mackenzie Country landscape was amazing. The weather had cleared beautifully after a huge southerly storm had passed through the previous day. Alan, my brother-in-law and I had just finished our lunch in the sun at Lake Alexandrina, one of the most beautiful places you can imagine, and we investigated Godley Peaks Road before making our way to Aoraki / Mount Cook.
Original painting 'Walking Group' : oil on canvas
Original painting size: 1200mm x 672mm
Private collection, Brisbane, Australia.
Art prints: Limited edition (offset on paper) 450, hand numbered & signed. Large size: (image area) 720mm x 430mm
Print price (printed offset on paper unframed) NZ $99 + packaging and freight. (Packaging & freight is free within NZ.) See below for exchange rates
Giclee reproductions: Limited to a maximum of 195 renditions of this work.
Giclee fine art prints on canvas (unframed) NZ $499+ packaging & freight outside NZ. (Packaging & freight is free within NZ.) More about Giclee fine art prints