'Southern Icon'
Oil painting on canvas by Grant McSherry. 1200 mm x 800 mm.
Mitre Peak in NZ is definitely a "must - see" and for me was a "must paint" even though there are many other paintings of Mitre Peak in existence. At only 1692 metres, Mitre Peak is not the tallest piece of rock in the area, but its iconic pyramid presence dominates all that surrounds it.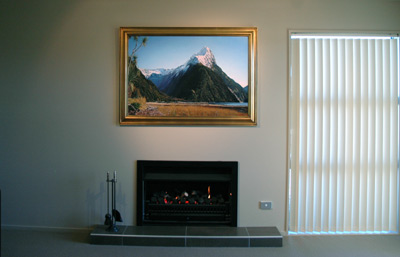 Left: The original, 'Southern Icon' is a large size oil painting, finished in a hand crafted, gold leaf frame.
I consider the road between Te Anau and Milford Sound to be the most magnificent no-exit road imaginable. This is even longer than Highway 80 and just as eventful in terms of things to see, though there are many more places to stop along the way. I note that it is now mandatory to carry chains at least in winter, when travelling this road.
I had stayed the night prior to my last visit to Milford Sound and Mitre Peak at
TeAnau and woke to a huge frost. The excursion I had planned to a point on the shore of Lake TeAnau to catch the sunrise for a painting didn't yield a result. This is despite the fact that I had navigated my way through the bush at the starting point of the Kepler Track in the dark and had nearly completely frozen by the time the sun came up. Looking toward Milford Sound, I saw a lot of cloud and knowing that more times than not the scenery is shrouded from view, I nearly decided against going that day.
As my journey progressed I saw that the cloud that had previously concerned me was fast burning off. I joined a small queue of traffic that had stopped near the entrance to the Homer tunnel. An avalanche team was blasting for safety prior to opening the remainder of the road into Milford Sound and Mitre Peak. The process took about an hour!
I had reached Milford Sound on a beautiful day and the views of Mitre Peak and the rest of Milford Sound were spectacular.
I found a view of Mitre Peak I really wanted to work with, not the traditional reflection in the water scene but something that let me express the sheer dominance of Mitre Peak. I enjoyed the challenges associated with painting an iconic landmark that many others before me have painted, and I hope you enjoy the result.
Original painting 'Southern Icon': oil on canvas
Original painting size: 1200mm x 800mm
The original oil painting 'Southern Icon' is available for purchase NZD $9,500 + packaging & freight .
Art prints: size (image area) paper 720mm x 480mm
Limited edition (offset on paper) 750, hand numbered & signed
Print price (printed offset on paper unframed) NZ $99 + packaging & freight. (Packaging & freight is free within NZ.) See below for exchange rates