'Autumn at Mount Blackburn'
Oil painting on linen by Grant McSherry. 1200 mm x 735 mm.

Mount Blackburn (2490 metres) stands at the northwestern terminus of Lake Pukaki in New Zealand's Mackenzie Country. The distinctive pyramid shaped mountain is probably the last landmark to the right before your eye finds the Tasman Glacier then rests on Aoraki / Mount Cook (not depicted in this oil painting)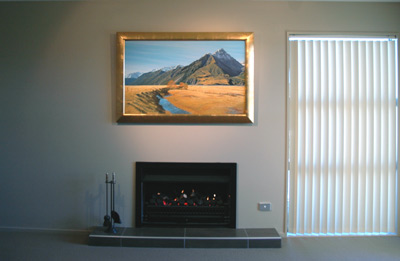 Left: The original, 'Autumn at Mount Blackburn' is a large size oil painting, finished in a hand crafted, gold leaf frame.
The idea and the photograph that this New Zealand landscape oil painting is based on originated on the same field trip that yielded my oil painting 'In Our Own Good Time'. My focus on that late autumn day was to find some stunning images of Aoraki / Mount Cook, but while exploring the landscape I found a compelling perspective of Mount Blackburn and its autumn alpine environment that really had to become a Grant McSherry oil painting.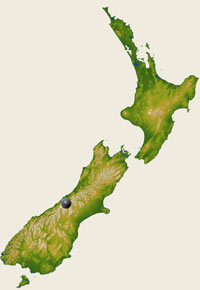 Mt Blackburn looked like something I could climb right there and then...it was one of those impulsive feelings that due to common sense you don't act on. A friend of mine with considerable local knowledge told me later that locals know Mt Blackburn as "Rotten Tommy". Although there are other theories as to how the peak got it's alternate name, "Rotten Tommy" could easily refer to the instable nature of the rock on the ridges of the mountain. The rock that parts of the Southern Alps consist of, including the peak of Aoraki / Mt Cook, are said by climbers to be like "Weet-Bix" due to their crumbling nature caused by a high level of erosion. The Southern Alps is one of the world's fastest growing mountain ranges, pushing up at a rate of about 10 - 20mm per year (while shearing horizontally at a greater rate of 20 – 30mm per year). Erosion paces growth, meaning the overall height does not increase. An example of erosion in the area was in December 1991, when Aoraki / Mt Cook lost 10m off its summit. 14 million cubic metres of rock and ice tumbled from the peak.
So, at least at this point in time, I have prudently chosen to "conquer" Mt Blackburn with brushes rather than climbing boots but I admit that while painting it, I imagined much more than once how I might get to the summit...
My aim in producing the oil painting was to convey a sense of autumn in a place where not a lot changes with the seasons, other than the snow level. At the same time, I wanted to paint an accurate description of Mount Blackburn and create a sense of place around the entrance to Mt Cook National Park, with its acres of ochre. I intended the painting to convey a feeling of wide-open space abruptly ended by a slightly unusual, yet magnificent mountain range. Creating a perspective of depth was of paramount importance and I believe the resulting flow and composition works well.
The original oil painting 'Autumn at Mount Blackburn' is available for sale. No art prints will be produced; it's very much a one off.
Original painting 'Autumn at Mount Blackburn': oil on linen
Original painting size:1200mm x 735mm.
Available for purchase NZD $10,500 + packaging & freight