'Early Start'
Oil painting on linen by Grant McSherry. 1200 mm x 800 mm.

The oil painting 'Early Start' germinated in April 2005. I had decided to add a couple of days to my Anzac weekend break for a brief excursion to Aoraki / Mount Cook National park in search of material for a new Mackenzie Country landscape oil painting.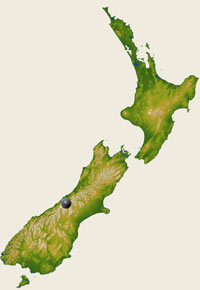 Having arrived at Glentanner the previous day, my start on April 27th was early as it usually is on an image-finding mission. I got up while it was still dark, not feeling too guilty that the noisy group in the cabin next door, who kept me awake, might be hearing the car engine and roaring air conditioning as I defrosted the thick ice from the car's windows with hot air and water.
The morning was awesome. Even in the dark, Aoraki was glowing white in the frosty starlight.
Having staked out a point to watch and photograph the sunrise over Aoraki / Mt Cook the previous day, I found my spot, set up the camera on its tripod and waited shivering, for dawn to break.
After I achieved my initial goal by getting some good photos at dawn, I was back in the car. At this point I felt it would be rude not to make the most of the fantastic early morning sky from my favourite road. I enjoyed the project right from the start, scooting up and down a stretch of the empty road for a few kilometres in both directions searching for the right image to work with. The cloud that had gathered over the peak of Aoraki / Mt Cook at dawn was quickly multiplying and it was clear that within a short time the mountains would be shrouded, as they were for much of the previous day. Everything came together to give me what I wanted… my next statement about Highway 80, vastly different from the first.
Original painting 'Early Start': oil on linen
Original painting size:1200mm x 800mm. Available for purchase NZ$ 8,500 plus packaging & freight if applicable.