'Highway 80'
Oil painting on canvas by Grant McSherry. 1200 mm x 660 mm.
Mt Cook / Aoraki stands at the end of NZ's Highway 80. New Zealand's highest mountain at 3724 metres, grows before you as you progress along this no exit highway to the Mt Cook village and the Hermitage. As you turn onto NZ's Highway 80, just north of Twizel, you are flanked by the Ben Ohau Ranges on your left and the almost unrealistic looking turquoise blue of Lake Pukaki to your right. This is a fantastic 55 km drive.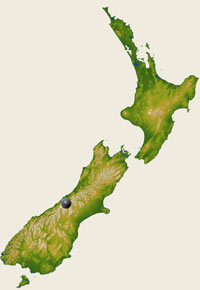 My Highway 80 oil painting and limited edition art print germinated during our journey to Mt Cook National Park back in 2000, our first trip to Aoraki / Mt Cook since we moved to the South Island. Michelle and I enjoyed an excellent morning, but as we were leaving I was disappointed at not having found material for the "great painting" I had anticipated. As it happened, I glanced in the wing mirror at just the right moment and thought wow! The potential I had missed earlier was revealed... at this early point in my painting career I hadn't fully learnt to "see the wood for the trees" when looking for subject material. Fortunately the rear vision mirror had cropped the image, showing me that there can be much more than what you see through a camera lens if you think a little more. I brought the car to a quick halt, jumped out and captured the photo that I worked with to create the original oil painting. 'Highway 80' is a depiction of Mt Cook with the Mt Cook Range in front, from very close in.
This early painting is very much a milestone for me. 'Highway 80' was critical in my decision to take oil painting from a hobby to selling my work as limited edition art prints. This oil painting led to many more Grant McSherry roadside vistas including a revisit to the same subject ten years later. 'Highway 80' remains one of our more popular art prints on paper.
The original oil painting hangs on our bedroom wall and serves as a daily reminder to me of how and where my painting career began in earnest.

Original painting 'Highway 80': oil on canvas
Original painting size: 1200mm x 660mm. Artist's collection.
Art prints: Limited edition (offset on paper) 750, hand numbered & signed. Large size: (image area) 735mm x 395mm
Print price (printed offset on paper unframed) NZ $99 + packaging & freight. (Packaging & freight is free within NZ, overseas $22.) See below for exchange rates
Giclee reproductions Limited to a maximum of 120 renditions of this work.
Price: Giclee fine art prints on canvas (unframed) NZ $499 + packaging & freight outside NZ. (Packaging & freight is free within NZ, overseas NZ $22.)
More about Giclee fine art prints