The last Newf club water day for the season coincided with our first drizzly day for around two months!
Henry had decided that he would join Enzo and Michelle on the dinghy, which became fairly overcrowded...
Reminiscent of the Titanic with its stern in the air, the dinghy struggled with its bow submerged...
...all due to the fact that the bow was occupied by two Newfoundlands.
Despite trying to grab a hand from Henry, Enzo slipped off...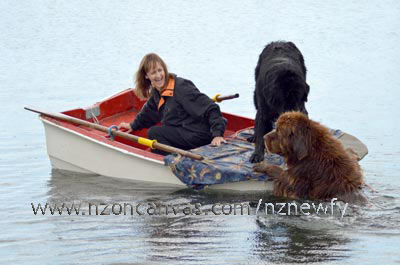 Oops!
Henry wonders what Enzo is doing out of the boat...
...And Enzo heads back to shore.
Check this out...no photo Shop, this really is Henry doing Newfy water stuff and leaping off the dinghy! We were so proud of our boy who pushed himself outside his comfort zone!
Please note that all images on this site are copyright.