'Godley Peaks Road'
Oil painting on canvas by Grant McSherry. 1200 mm x 800 mm.
NZ's Mackenzie Country is an area of alluvial grassland that's about as large as Singapore. Also known as The Mackenzie Basin, the Mackenzie Country spans from Fairlie to the Lindis Pass. I consider the Mackenzie landscape to be pure art in itself, with many stunning features including Mt Cook, Lake Tekapo, Lake Pukaki, Lake Alexandrina, and the Ben Ohau ranges...The Mackenzie Country really is one of my favourite places.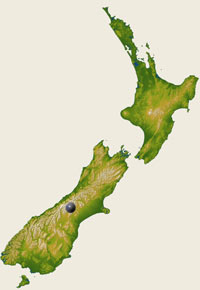 In a trip around the South Island of NZ most people will visit Lake Tekapo, one of the jewels in the Mackenzie Country crown. Busses full of tourists descend on the small & busy group of shops on the lakefront, which seem to specialise in selling either all things small and woolly or edible. Having visited Tekapo and the Church of the Good Shepherd, most travellers on a southbound journey progress from Tekapo directly to the lookout point at Lake Pukaki, just before the turn-off to Highway 80 to view Aoraki / Mt Cook, missing what I consider to be one of the most "New Zealand" landscapes in NZ. Just past Tekapo heading south, there is a right hand turn that is well worth taking.
After its short distance of seal runs out, Godley Peaks Rd becomes a rough metal road that parallels Lake Tekapo. From here you can turn off again and visit Lakes Alexandrina and Lake McGregor. Travelling on down Godley Peaks Rd you get to experience some of the real NZ back-country represented by this painting and by 'Walking Group'.
As an oil painting, 'Godley Peaks Road' is quite different in style and approach to 'Walking Group'. 'Godley Peaks Rd' explores the stark landscape and the desolate austere winter beauty of the Mackenzie Country .
Original painting 'Godley Peaks Road': oil on canvas
Original painting size: 1200mm x 800mm
Arbuckle Art Trust, Christchurch, NZ.
No art prints produced.